I'm from the part of Indiana that the other part of Indiana denies. I love corn. I love basketball. I'm a Hoosier but I say I'm from Chicago.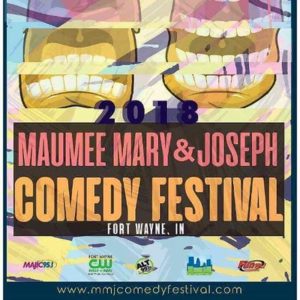 I'm super excited to be performing in my first Indiana comedy festival, Fort Wayne's Maumee Mary & Joseph Comedy Festival happening April 12th through April 14th, 2018. I'll be performing alongside a great lineup of comedy talent from across the country.
A fellow comic told me that comedy festivals are sleep away camps for comedians. Well my mom wouldn't let me go to camp so this is a life long dream come true. I need to discuss this further with my mom.
Performance Schedule:
April 12th, 2018 – MMJ Comedy Festival – Ft. Wayne, IN – For Real for Real Stories – 8:30pm – History Center
April 13th, 2018 – MMJ Comedy Festival – Ft. Wayne, IN – Midwest Finest Showcase – 7:00pm – History Center
April 14th, 2018 – MMJ Comedy Festival – Ft. Wayne, IN – Comedy Not Jeopardy – 5:00pm – History Center
April 14th, 2018 – MMJ Comedy Festival – Ft. Wayne, IN – Headliner Showcase – 9:00pm – Phoenix