When I started writing and performing comedy one year ago, I didn't really understand that I could use this medium for something more than entertainment. I've been amazingly surprised at the opportunities I've had to use comedy as a platform to speak out about bigger issues regarding racism, sexism and gender identity.
The exploitation of women and girls has been a cause that I have tried to educate myself about but honestly I've been very passive about assisting in any meaningful way. When you read the statistics, you realize that more needs to be done:
When you look closer at how sex trafficking and exploitation affects Hispanic/Latina women from the US and other Latin American countries, it's mind blowing.
According to the 2016 study entitled MORE THAN DRINKS FOR SALE commissioned by Polaris (polarisproject.org): "Thousands of Latina or Hispanic women are prisoners of the sex trafficking industry in bars and cantina-type establishments across the United States. They are recruited and controlled by criminal networks, business owners, or individual traffickers. They are deceived and enticed with the promise of romantic relationships, good jobs, and safe passage to the U.S. Other women and girls are forced to sell sex by their parents, family members, or intimate partners."
I know I can do more, and I hope this is a first step. Please join me on Tuesday April 25th at 5:30pm at Lagunitas Brewing Company in Chicago for a fundraiser for CAASE (Chicago Alliance Against Sexual Exploitation). CAASE's Young Professionals Board (YPB) is hosting their exciting launch event called Stand Up for Survivors. Join us for what's sure to be a hilarious night of comedy to raise money for CAASE's work to end sexual exploitation.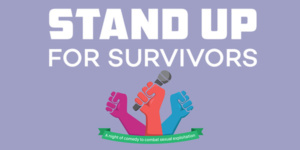 I'm honored to be performing with this great line-up of performers including: Le Aboav, Clare Austen-Smith, Alex Kumin, Rebecca Loeser, Deanna Ortiz, Caleb Probst,  Amy Young, and the Whiskey Radio Hour.
Please buy a ticket here: BUY TICKETS